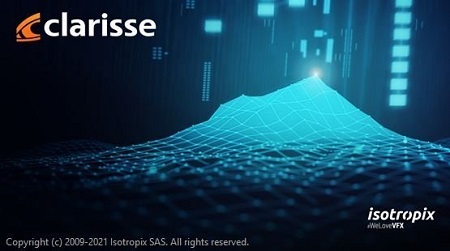 Isotropix Clarisse 5.0 SP14 (x64)
File size: 629 MB
A fully interactive CG toolset for set-dressing, look development, lighting and rendering.
Clarisse iFX is a powerful CG toolset trusted by internationally renowned creative studios. Built by artists for artists, it is designed to simplify today's complex creative workflows, empowering users with interactivity, speed and power over datasets containing bazillions of polygons.
Created in response to feedback from today's front-line CG creatives, Clarisse iFX unifies powerful rendering, lighting and look development tools under a single, accessible package. Thanks to its integrated CPU based rendering engine, based on unidirectional path-tracing users can work interactively on rich, data-heavy environments, scenes and assets, with full visibility over their creative decision-making.
Clarisse iFX fits seamlessly into the core of any modern production pipeline.
It's an intuitive, flexible and comprehensive toolset tailored to the needs of studios and production teams working in CG today – not ten years ago.
WORK INTERACTIVELY ON FINAL RENDERED IMAGERY
Shed light on the creative process via a state-of-the-art, lightning-fast CPU rendering engine. Creatives no longer need to work blind – they can interactively manipulate final imagery, seeing real-time updates directly in the viewport.
This means up to nine times more creative iterations and a more flexible, unhindered approach to content creation.
DEEPER COLLABORATION FOUNDED IN POWERFUL REFERENCING
Automatically synchronize all assets existing in a scene with a single click. Clarisse iFX's powerful hierarchical referencing workflow empowers a consistent, collaborative creative process: dozens of creatives can work simultaneously and seamlessly on a single environment while ensuring artists, technical directors and wider teams don't become lost in the noise. This also enables freelancers to easily jump into a project and get to work, without any headaches.
BURST THROUGH THE POLYGON BARRIER
Extreme complexity made manageable via a memory-efficient procedural evaluation engine. Clarisse iFX lets artists work with bazillions of polygons while it handles data behind the scenes. Users experience fast, flexible creativity even when manipulating environments containing vast complexity, thanks to an advanced PBR and path-tracing renderer that won't break a sweat.
MULTIPLE WORKFLOWS, ONE APPLICATION
Experience a tool created in response to the challenges of modern-day post-production. Clarisse iFX consolidates set-dressing, look development, lighting, rendering and layered-based pre-comp into a single, unified package. Archaic workflows defined by application hopping are a thing of the past; instead, users can focus on the singular task of creating incredible art.
Whats New
Licensing
- Removed various licensing restrictions for Indy, Education, and Studio licenses, temporary and permanent, floating and nodelocked
-- Licenses are no longer bound to hardware.
-- Licenses are valid forever, including licenses that have already expired.
Non-commercial licenses (Free Trial, Evaluation) are not concerned. (#12801)
-- Removed the Personal Learning Edition (PLE) mode. Isotropix applications now require a valid license to run. The End User License Agreement (EULA) has been updated accordingly. (#12802)
Geometry
- Raytrace Tessellation Level for bundles is no longer clamped to 1. A value of 0 means tessellation will be disabled.
In the same spirit, property driven subdivisions are also no longer clamped to 1. (#12819)
- Animate menu now provides a Move Pivots submenu, that gathers all ways of centering the kinematic pivots, either on bounding box center or center of each side of the bounding box (former Ground option has been renamed as Bottom). (#12327)
Shading Layer
- Shading Layer Editor now provides a way to test rules.
Select the rule(s) to test then press the new button in the toolbar to automatically select objects matching the rule. Use shift/ctrl modifiers to alter the selection instead.
By default, the current context is used but additional controls in the toolbar allow to specify which object (Group, RenderScene, LayerScene or simply a context) provides the geometry set to check the rules on, and which context must be used to resolve relative rules. (#11254)
Link Download

Download Via Fikper

https://uploadgig.com/file/download/2e878f2b29555f65/IsotropixClarisse50SP14x64.part1.rar
https://uploadgig.com/file/download/Cb41B74f8cC5109c/IsotropixClarisse50SP14x64.part2.rar

Download Via Rapidgator

https://rapidgator.net/folder/7329214/IsotropixClarisse50SP14x64.html

Extract files with WinRar 5 or Latest !