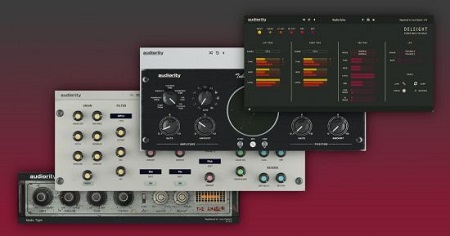 Audiority Plugins Bundle 2023.5 CE-V.R
File size: 315.5 MB
This bundle includes ALL Audiority plugins.
included effects
Deleight v1.4.1 — Multi Tap Stereo Delay with cross feedback
Echoes T7E mkII v2.2.2 — *Binson® Echorec® T7E Magnetic Echo
GrainSpace v2.4.2 — Granular processor & reverb
Harmonic Maximizer v1.2.0 — Multiband exciter & loudness maximizer
LDC2 Compander v1.2.0 - Analog modeled optical compressor & expander
Plexitape v1.3.1 - *Maestro® Echoplex® EP-3™ tape echo
Polaris v1.8.1 — Echo/Reverb based on early digital reverbs of the late 70s
PolyComp v1.2.0 - Analog simulation multiband compressor
Pre X7 v1.5.1 — Analog modeled tube preamplifier
Pyros v2.1.0 - Aggressive distortion unit (formerly The Abuser)
Side Filter v1.3.0 — HighPass filter
Space Station UM282 v1.4.0 - Ursa Major Space Station SST-282 echo unit
TS-1 Transient Shaper v1.3.1 — Transient shaper with soft clipping
Tube Modulator v1.4.1 — Analog modeled modulator
XenoVerb v1.5.0 — Multiple algorithms creative reverb
included guitar amp & pedals
Big Goat v1.2.1 — Electro-Harmonix® Big Muff Pi™ distortion
Blue Face v1.2.1 — Dunlop® Fuzz Face™ fuzz
Chorus Ensembler v1.1.1 - BOSS® CE-1™ BBD chorus & vibrato
Dark Memory v1.0.2 - Electro-Harmonix® Memory Man™ EH7810 BBD echo
Distortion One v2.0.1 — BOSS® DS-1™ distortion
Dr. Drive v1.2 - free Horizon Devices® Precision Drive™ overdrive
Dr. Phase v1.1 - free MXR® Phase 90™ phaser
Electric Matter v1.1.1 - Electro-Harmonix® Deluxe Electric Mistress™ BBD flanger
Green Reaper v1.1.2 - Ibanez® Tube Screamer™ TS9 overdrive
Heavy Pedal mkII v2.0.4 - BOSS® HM-2™ distortion
Klirrton Grindstein v1.2.3 - Ultimate Death Metal Plugin Suite
L12X v1.3 - free Marshall® Lead 12™ solid state amplifier
Oktaver 82 v1.1.0 - BOSS® OC-2™ classic monophonic octaver
Solidus Randy 250 v1.1.0 - Randall® RG100ES & RH150 solid state amplifiers
Solidus VS8100 v1.2.0 — Marshall® Valvestate™ 8100 solid state amplifier
The Bluesman v1.0.1 - Marshall® Blues Breaker™ overdrive
The Driver v1.0.1 - Marshall® Drivemaster™ overdrive
The Overseer v1.0.1 - Marshall® Guv'nor™ distortion
The Shredder v1.0.1 - Marshall® Shredmaster™ overdrive
Link Download

Download Via Fikper

https://fikper.com/RZWeiB5hAj/AudiorityPluginsBundle20235CEVR.part1.rar
https://fikper.com/SgNlVds2tb/AudiorityPluginsBundle20235CEVR.part2.rar

Download Via Rapidgator

https://rapidgator.net/folder/7218823/AudiorityPluginsBundle20235CEVR.html

Extract files with WinRar 5 or Latest !